See on Scoop.it – Archetype in Action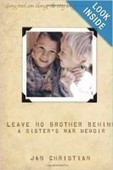 Did you lose a loved one in battle? Did you serve in the military and lose a comrade in battle? Are you in one of the tens of thousands of families who lose loved ones to drunk drivers and unexplainable fires each year? Did you ever go to a funeral to "celebrate the life" of a classmate, who died too young? Are you or a loved one struggling with the meaning of death? Have you been wounded or maimed in battle or an accident, or know someone who has? If so, this book is for you.
Skip_Conover's insight:
My review of Jan Christian's book!
See on www.archetypeinaction.com