See on Scoop.it – Archetype in Action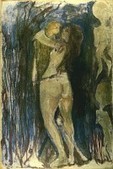 Given a plethora of television shows and films about zombies, what is a Jungian to see but a collective attempt to dream the unsayable. Carl Jung showed that what cannot be worked through at the conscious level is often worked through at the unconscious level, in symbolic fantasy (CW 5, para 4-45). Encountering that for which there is yet no fantasy, we confront the limits of sense. For the collective social body, film and art are an unconscious attempt to work through collective transformation at the limits of reason and sense. In the case of zombie movies and the growing zombie apocalypse movement, we may be seeing an attempt to dream 'apocalyptic' change.

Zombie are the 'Undead': not living, not dead, driven yet not alive, the zombie images emerge from the recesses of the collective unconscious. Animated yet with out life, they move. Driven, yet without desire, they seek. Emerging from "subterranean passages" of psychic life they express a surplus of drive without instinct, of desire without meaning. How else shall we understand the collective dreaming of the zombie, but to see that our "natural instincts [have transformed] into a monstrous drive that can never be fully satisfied" (Slavoj Zizek, 2000).
See on www.archetypeinaction.com