See on Scoop.it – Archetype in Action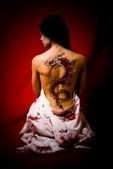 Humans have been tattooing skin, filing teeth, and spiked with ornaments since prehistoric times: sometimes to stand out, sometimes to blend into a group. The 5000+ year old Ice Man (Oetzi) uncovered in the Alps has tattoos that may have telegraphed identity or magical thinking, or worked to relieve, physically or psychosomatically, his local aches and pains. Or all of these.

Today, tattoos have proliferated. While rationales can be as varied as the designs, all tattoos modify self-esteem as well as bodies. Like cosmetics, tattoos are prosthetic, since like an artificial limb they make up for something felt to be missing or inadequate. We're always devising ways to enhance parts of our bodies, from diets and wigs to a Michael Jackson makeover. Once we're self-aware, there's really no such thing as a wholly "natural" body. We compete with others and ourselves to envision a more perfect us.
See on www.archetypeinaction.com