See on Scoop.it – Archetype in Action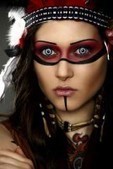 With a loud piercing cry, the bare chested Native American warrior hurled his tomahawk at John Weir Perry with full force. John told me that at the last second in the dream, he caught it between both his palms just before it was buried in his heart. "Yes!" cried Jung- "See, your inner wild man is demanding your attention!" That was the memorable response to the 22 year old Perry, who had just bravely and fatefully brought his dramatic dream to "the dream master" that morning, after the first night he had slept under the same roof with Jung..

It was 1936 and Jung was staying at Perry's house while on a trip to America for an honor given him at Harvard. Perry had picked him up at the train station and was amazed that the reserved, Germanic style scholar/physician he had expected to meet was instead a loud, boisterous and earthy, very physically powerful man.
See on www.archetypeinaction.com