See on Scoop.it – Archetype in Action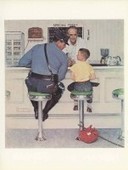 Many Americans have lost the meaning of the glue that holds America together. Too many of us have put our energy into polarizing our country into "we" and "they". It isn't the first time. Our leaders have allowed this to happen time and again, once resulting in the carnage of The Civil War.

In some sense, the mosh pit of polarization is what has made our country strong. While others are shocked by the ferocity of our debates in the United States, in the end they allow us to drive impurities out of our system, and beneath the noise we have created a national psyche of burnished steel.
See on www.archetypeinaction.com